The Ever-Unique Mothers' Day Gift Guide!
Moms are quite remarkable. She's been your best friend, confidante, guardian, and so much more. With Mother's Day approaching on Sunday, May 8th, we want to offer her all the love she deserves, which makes finding the perfect present all the more difficult. Let us relieve some of the stress this Mother's Day by scouring the internet to find some distinct original gifts that can be delivered directly to her front door. For any mother figure in your life, there's a meaningful gift for every type of mom to help her feel appreciated. We figured she'd be obsessed with some out-of-the-ordinary gifts this year with our top picks.
Super Easy Skincare Trio
We can't leave out a skincare routine for our beautiful momma. A very simplified skincare routine starts with the G.L.A.M (Glow Like A Mother) system. Gorgeous Confidence curated this 3 part routine for smoother, clearer skin without all the fuss. We know mom's like to keep it super easy and convenient because they're probably running around getting chores done. If your mom barely has the time to take care of her skin, this kit offers a cleanser, serum, and moisturizer with potent ingredients that work on all skin types. 
Constellation Map
To make a special moment even more memorable, a customized constellation map will serve as a reminder of the night sky on a given date. How special would it be to gift her the constellation of her wedding anniversary date or even your grandparent's birthdate or anniversary, a date that means the world to her. You can choose how to custom design the map with a quote, a city/area, or an exact street address. You can find these night sky maps, personalized pillows, and plenty of customized gift ideas at Finch & Cotter's Etsy store out of Grand Rapids, Michigan.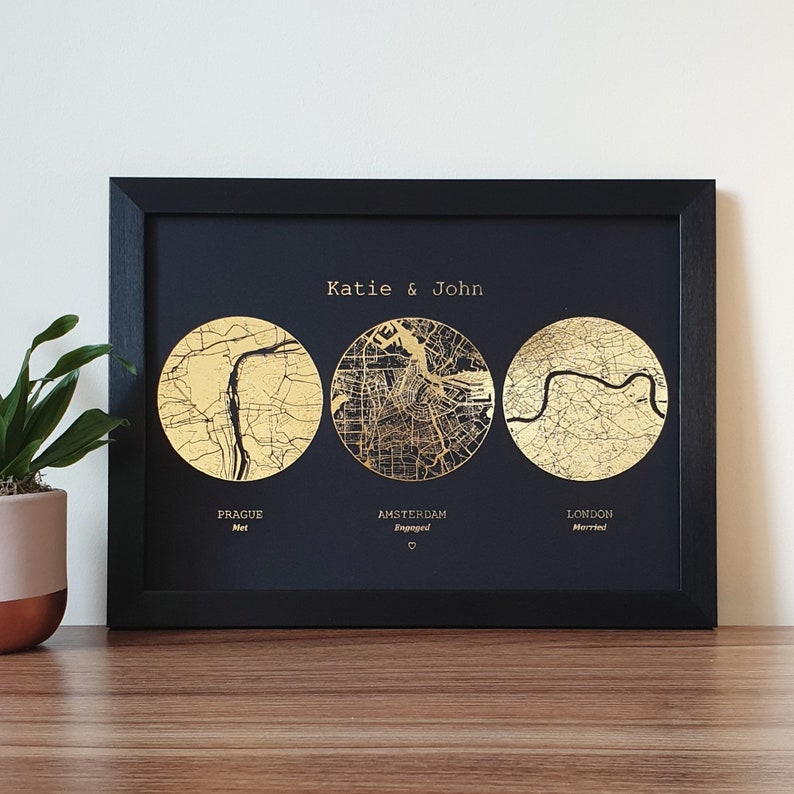 Handmade Candles
A fragrant candle is a lovely way to add to their cozy home atmosphere. You can't go wrong with giving a home scent to momma. Now, the only difficult part is deciding which fragrant notes they'd like! Some moms can be very picky when it comes to home scents, some like warm vanilla or sandalwood, and some prefer fresh lavender. Paige's Candle Co offers handmade vegan soy wax candles formulated with a blend of phthalate-free fragrances and essential oils. The black women-owned small business is located in Queens, New York. A part of their proceeds is used to provide free craft lessons to non-profit groups in New York City.
Bath Salt
For the mom, that's always heading to the spa to unwind, bring the experience to her with Maude's two-jar bath-soak kit. Maude is a women-owned company from Brooklyn, New York. The first jar offers a nourishing coconut milk bath to soothe the skin, while the second jar contains sweetly perfumed bath salts to relieve muscular pains. Taking a warm bath with bath salts helps to soften skin and enables hydration into the skin. If your mom suffers from skin diseases like psoriasis and eczema, adding salt to the water can help eliminate dry scales on the skin and reduce irritation. 
Essential Everyday Tote Bag
For the mom that loves keeping things simple, and practical and needs a lot of space in her bag when she's out and about, the Baggu Tote Bag is versatile and roomy enough to carry around everywhere. The perfect gift to the mom whose daily routine needs adaptability, and if she tends to carry anything you need, right when you need it. These special tote bags are constructed from 65% recycled cotton, the cotton fibers that have been recycled come from pre-consumer trash (like the socks and old t-shirts we trash). It's spacious enough to transition from work to play on the fly with plenty of styles and sizes to match your mom's fashion sense. 
100% Organic Cotton Pajamas
Sleepwear should not only look cute but also feel luxurious. If your mom's still wearing her torn, worn-out pajamas for who knows how long, it's time to get her some ethically produced nightwear. The Bright Co offer beautifully printed sleepwear and loungewear made with environmentally sensitive fabrics in Portugal. Your mom will feel like a queen that she is in these everyday indulgence pajamas. Not only are these made better for the environment but also soft enough for sensitive skin that feels just as wonderful. 
Silk Pillow Cases 
Give the gift of a beautiful restful night's sleep with a high-quality silk pillowcase to your mom. If you didn't know, silk pillowcases are known to reduce irritation and friction on the skin and hair leading to damage. The Discover Night Silk Sleep Kit is the perfect gift for all tired moms to help keep wrinkles and hair damage at bay, but it also regulates your body temperature so she won't be feeling super-hot throughout the night. She will feel truly relaxed and improve her sleep routine with a luxurious silk pillowcase.
Comfy Footwear
Only the best for mom, especially when it comes to her feet. REEF sandals are designed with arch support and durable shock absorption provided by the natural cork footbed. The comfortable pair of sandals are light as a feather and can be worn from day to night for hours with their elegant silhouette. When it comes to eco-friendly footwear, this sandal comes out on top with its vegan leather and recycled components.
If you're looking for a gift that's more than just flowers for Mother's Day, we're confident that any of the presents in this guide will be something that she can't live without!